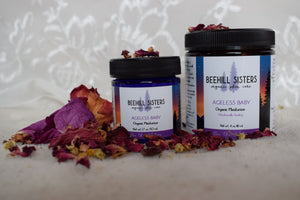 This beautifully luscious skin cream is specially formulated for sensitive skin .
Using only the most pure ingredients available , this cream helps nourishes and soften the skin in a most healing way. By massaging the cream onto and into  the face , this honoring and reverence of our magnificent body  helps to  lessen the tension in wrinkles and therefore helps them to become less noticeable .
This skin cream is a delicious creation and most skin loves it .
Remember a little goes a long ways
Ageless Baby is handmade in small batches on our family farm. Good for any dry skin, our cream naturally soothes and nourishes.

Ingredients: Olive Oil*, Calendula*, Chamomile*, Coconut Oil*, Shea Butter*, Caster Oil*, Jojoba Oil*, Sacred Aqua*, Aloe Vera*, Beeswax*, Vitamin E, Love & Blessings*
To Use: Apply sparingly to clean skin as needed. For topical use only. WARNINGS: For external use only. Discontinue use if condition worsens or if there is a reaction to the product. Product may separate in extreme temperatures.
*ORGANIC
SLS and Paraben FREE.